StarVista LIVE Announces All Access Pass LIVE Detroit – an Exclusive Motown Celebrity-Encounter Week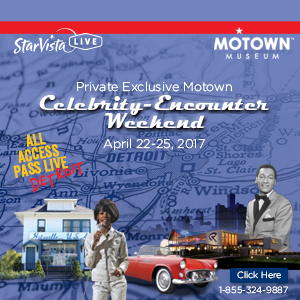 StarVista LIVE, producers of the Flower Power Cruise, is excited to announce a brand new experience that will take you beyond the music and behind the velvet rope at the birthplace of the Motown sound. Introducing All Access Pass LIVE – Detroit.
Join Martha Reeves, Duke Fakir, and their friends on this amazing four-day weekend event April 22-25, 2017. A must-do for any fan of the classic Motown sound. Go behind the scenes for a VIP tour of Detroit.
This will be an incredible weekend that will immerse you in the history and legacy of that iconic label's music, as told to you by the people who made it happen. All Access Pass Live: Detroit is an opportunity for fans of Motown music and Motor City history to explore Detroit behind the scenes and to mingle with the artists that created and performed the Motown sound. Only at this exclusive event can you experience America's greatest music genre, performed live by the artists and retold by the insiders who were there at the beginning.
PLUS you will be face-to-face with the high-powered excitement of Detroit's car culture – from historic factory tours to the power and design of Detroit's newest productions!
The private, exclusive weekend will be limited to 100 guests and will include such highlights as:
A private concert and meet & greet with the Four Tops at the Legendary Roostertail where the Four Tops recorded their first live album
A tour and cocktail reception at the Motown Museum hosted by Martha Reeves
A private reception at the M1 Concourse, a world-class sports car and classic car venue, hosted by former Motown Records Senior Vice President Miller London
A tour of several landmarks of the Motor City which influenced the Motown sound
A visit to Greenfield Village, the Ford Museum, and a private ride in a Model T Ford
Don't wait; this intimate, exclusive All Access Pass experience is limited to 100 people.
Prices start at just $1,999 per person and include all meet & greets, admissions, accommodations, transportation, and most meals.